The Best Liquid Space Journey Ever
Welcome to my tribute site to the amazing 20,000 Leagues Under the Sea ride that was at Disney World but isn't there anymore! The 20K ride was so good I can't even talk about it. Just awesome—as in awe inspiring. I only rode it once when I was about 3 years old, but it kick-started a lifelong infatuation with the undersea world and more specifically, giant squids attacking things. All I remember clearly is a porthole, a whole lotta bubbles, and OH MY GOOD GOD THERE'S A GIANT SQUID ATTACKING THAT SUBMARINE! But of course there was a lot more to it than that...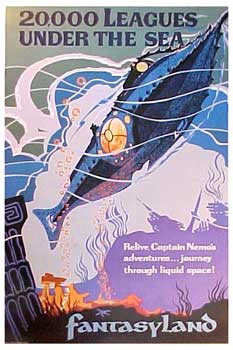 Chances are you rode this ride when you were a kid, and chances are that you haven't thought about it in a loooong time. But you're thinking about it right now and probably something is starting to stir deep inside you. Do you feel it? That's the pull, the power—that's your dreams awakening. You can use that energy to do great things; maybe you already have and that's why you're here (I hope you didn't use it for evil!). Now join me as I salute the ride that cultivated the dreams of so many.
The Last Resting Place of the Nautilus
The idea for this site began when a procrastinatory Google search accidentally led me to Mary Rolfe's spine tingling account of the 20K ride and her jaw dropping video stills. Seeing those images gave me chills of wonder and nostalgia like it was nobody's business and I wasted most of the workday hunting down every other picture I could find. The more pictures I found the more I fell in love with the ride all over again. At first there were precious few, but over time (and with the help of several 20K ride crew alumni) I've managed to gather quite an enjoyable collection, complete with video footage of the entire ride! Enjoy!
Oh come on, I'm well aware that this site's existence is a little ridiculous. But the fact is, that ride kicked my ass, and I had such a blast researching it that I wanted to share what I'd found. You know how they say, "If you can't find what you're looking for then make it yourself", well I've created exactly the site I would have loved to stumble across when this whole crazy business got started. (And I had a great deal of time on my hands while I was unemployed for two weeks...)